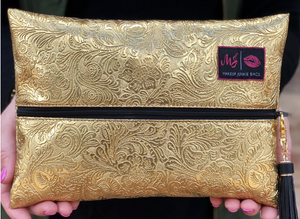 Makeup Junkie Bags are AMAZING! Straight from Shark Tank, these are one of the HOTTEST items around. A wipe-clean interior, a center zipper that allows you to see all the contents AND the lay-flat ability make these a traveling and organizing MUST-have!

*Each Makeup Junkie Bag comes with designer, moisture resistant, interior liner*
Sizes
Mini 9" x 4"
The mini makeup junkie bag is perfect for your phone, cash, business cards, credit card, lipstick, pens/pencils etc.
Add the strap to make it a cute wristlet!
Small 9" x 7"
The small is perfect for a small makeup bag, jewelry, electronics, diapers/wipes, medication, etc. This one is great to throw in a bag or separate items out of your luggage to keep you organized.
You could also add the wristlet strap to this bag! 

Medium 12" x 8.5"
The medium Makeup Junkie Bag is great for baby items, snacks, makeup, hair products, hair tools (straightener/curling iron/combs/brushes) and the wipeable interior makes it a great wet bag -- perfect for inside your beach bag!
Large 14" x 9"
This Makeup Junkie fits full sized hair products, shampoo, brush, tooth brush, school supplies, clothing items like bras and underwear you may want to separate from your luggage. The large bag also fits a full-sized makeup palette!